The addition of Phase Two will bring Bertschi's total land area to 45,000 square metres. (Phase 1 - 30,610 sq. m.). With its expansion, Bertschi AG will invest an additional S$35 million in its second facility, bringing its total investment in Singapore to S$80million.
"In the past year, we helped to fill a pent up need in the market, and have established ourselves as a reference chemical logistics company in Singapore, serving the specialty chemical sector on the Jurong Island Ethylene Oxide corridor," said Mr Lieven Vander Elstraeten, Managing Director of Bertschi Solutions, Singapore.
Since its opening just under 12 months ago, Bertschi Singapore has seen an increasing demand for its services and built up a strong sales pipeline. The new facility aims to help meet the increasing demand for specialised chemical logistics services in Singapore and the region. It will feature an additional 25,000 pallet position dangerous goods warehouse, with an expansion of its drumming activities. Targeted for completion in Q4 2017, it will increase its staffing to 100, a 33 per cent increase from its current staff strength of 75.
Bertschi leads the industry with its fully-integrated chemical logistics, door-to-door services that integrates with its global deep-sea isotank operations with one of the largest isotank fleets in the world. The state-of-the-art facility provides safe and sustainable handling and safe storage of specialty and hazardous chemicals, backed by the company's Best-in-Class safety performance.
"Bertschi's decision to expand in Singapore so shortly after opening its first facility speaks volume of the growing demand for specialised logistics services. This is reflective of Singapore's push to develop the specialty chemicals sector, which has grown by 6.1% CAGR in manufacturing output over the last ten years," says Mr Damian Chan, Executive Director, Energy & Chemicals, Singapore Economic Development Board. "To pursue growth areas, we will continue developing Jurong Island's infrastructure and services, such that we remain competitive and provide investors with the confidence to grow their business in Asia."
"We will continue to meet the fast-growing demand for chemical logistics in the region, with the strategic advantage of Jurong Island as the chemical hub main gateway to Asia," added Mr Vander Elstraeten.
Ms Cindy Koh, Director of JTC's Energy and Chemicals Cluster, said, "We congratulate Bertschi on the opening of its second facility on Jurong Island. Bertschi, being a leading intermodal logistics provider for liquid chemicals, plays a strategic role in Jurong Island's ecosystem. Bertschi's new facility will help meet the growing demand for logistics services of specialty chemicals on Jurong Island and in the region, and enhance synergies among industry players."

Bertschi combines drum filling, steam heating and chilling of chemicals, (non) dangerous goods isotank storage and warehousing and trucking - all at one location in the proximity of the Jurong Island production facilities. As a one-stop point for producers of liquid specialty chemicals in Singapore and Asia, Bertschi offers companies shorter lead times, more efficient, transparent and streamlined supply chains at optimized operations costs.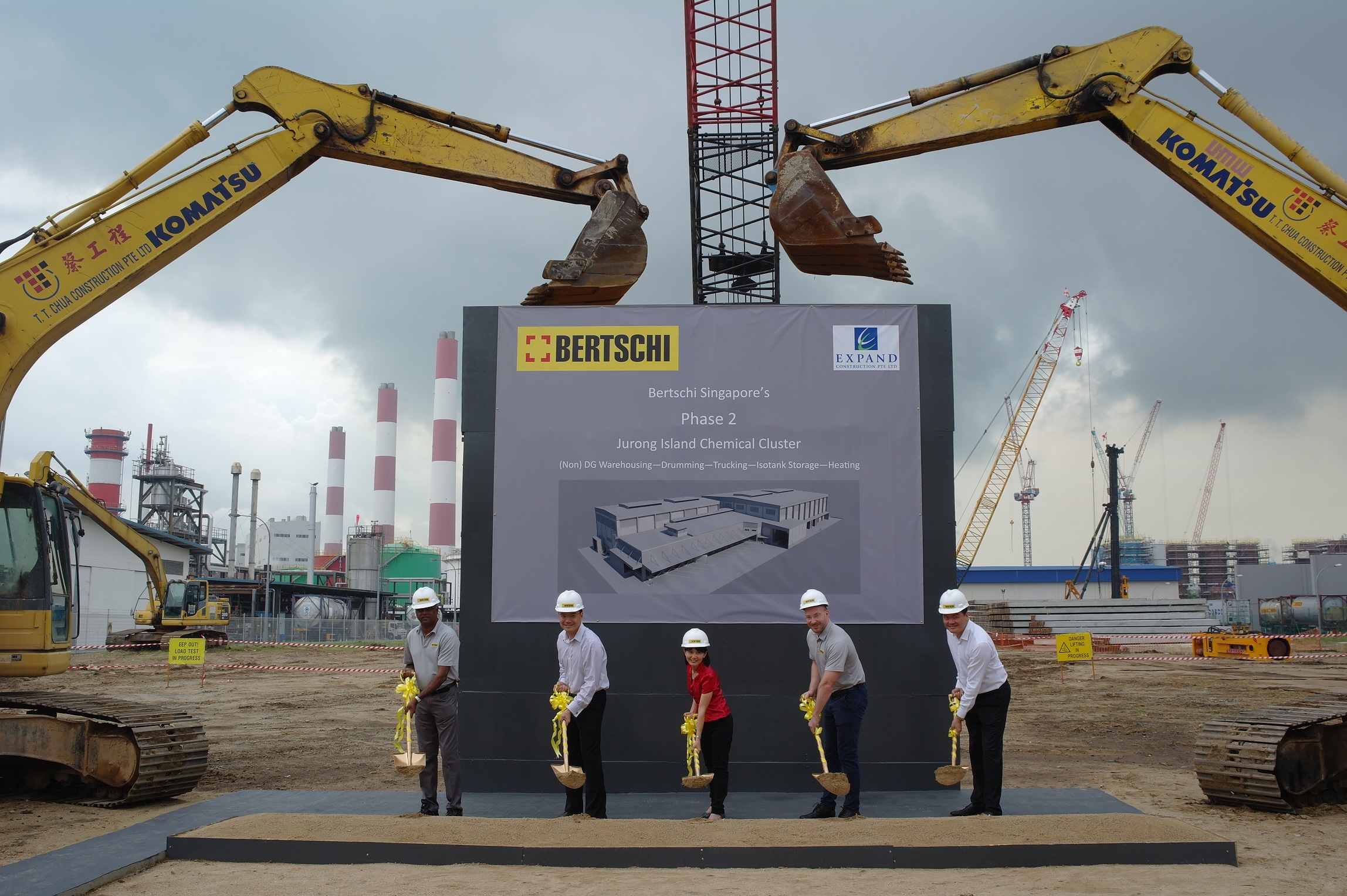 Bertschi Singapore - Phase 2 Groundbreaking
L to R:
Mr Krishnan Muthusamy, General Manager Bertschi Singapore Pte Ltd;
Mr Damian Chan, Executive Director EDB;
Ms Cindy Koh, Director JTC
Mr Lieven Vander Elstraeten, Managing Director Bertschi Singapore Pte Ltd
Mr Von Lee, CEO Expand Construction Pte Ltd