"The shifting focus to specialty chemicals is not just confined to Europe, as our latest investment illustrates," said the President and CEO of Bertschi Holding AG, Hans-Jörg Bertschi, at the unveiling of the new facility. "This is a revolutionary step for the chemical industry."

"While better known for its refineries and petrochemical complexes, Jurong Island has in recent years welcomed more manufacturing activities in specialty chemicals. Such manufacturing activities require specialized logistics capabilities, and the addition of Bertschi is an example of how we continually ensure Jurong Island remains competitive. As such, companies here can continue to find Singapore an ideal location to grow their business," said Damian Chan, Executive Director of Energy and Chemicals in the Singapore Economic Development Board.

"As the latest Swiss global logistics company to enter the ASEAN market, Bertschi is committed to ensuring Swiss quality and consistent safety throughout its value chain. Its strategic investment here in Singapore aims to leverage on the country's connectivity across the region and first-class infrastructure," said H.E. Mr. Thomas Kupfer, Swiss Ambassador to Singapore, who was the Guest of Honour at the inauguration.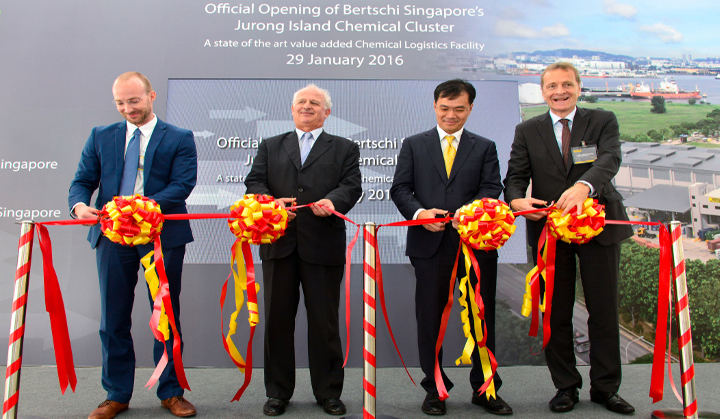 Bertschi AG
Official inauguration of Bertschi Jurong Island Chemical Cluster (JICC)
Occupying 30,000 square metres of land, the Bertschi Jurong Island Chemical Cluster (JICC) is its most advanced in Asia for the safe and efficient handling and storage of specialty & hazardous chemicals. Key services include Dangerous Goods (DG) Bulk Transport and Handling, DG Chemicals Storage, Isotank Storage & Heating, Blending & Drumming/Repackaging. These make the Bertschi JICC a one-stop‐shop solution on Jurong Island, integrating non/DG Isotank storage, Bertschi's Global Tank Container Operations, and a wide range of value added activities. Its location ensures that hazardous chemicals are kept on Jurong Island and minimizes traffic going on and off the island.
"Instead of putting their specialty chemical products into fixed liquid storage tanks at the plant site, the producing company may now fill their final products directly from the production reactor into our Isotanks. The products are then stored in Isotanks at our Chemical Cluster," said Bertschi. "By doing so, the producer reduces Capex for his newly built specialty chemicals plant typically by 10 to 15 percent, and land use by up to 50 percent. Producers may streamline existing plants with very little investment, as internal logistics is often the bottleneck to production run optimisations. The same principle applies for import/export flows from overseas," said Bertschi. "Instead of going through bulk liquid storage tanks, we import Isotanks directly into our depot, and store them there. Isotanks are the new bulk liquid storage for specialty chemicals and the raw materials used in specialty chemicals plants."
According to Bertschi, one of the elements supporting this revolutionary change – besides the globalisation of the chemical industry and the focus to reduce capital expenditure – is the paradigm shifts in sea freight. In the last eight years, container vessels have increased their size from 8,000 to 20,000 TEU (twenty-foot equivalent unit) per ship and introduced slow steaming, leading to very significant cost cutting. As a result, it has become more cost-efficient for specialty chemical products, as well as their raw materials supply, to move in Isotanks instead of parcel tankers.
Chemical producers can focus on their core business, while Bertschi provides the logistical infrastructure and capacity to handle the non/hazardous chemicals. "New plants on Jurong Island are able to maximize their processes with optimum efficiency," said Bertschi, "They will require less capital expenditure as they can now outsource their processes to Bertschi. This, plus increased customer profit margins through integrated logistics concepts, logistic outsourcing and supporting logistics project management, will enhance Jurong Island's investment location attractiveness. Thus, you could consider the Bertschi JICC to be an additional link in Jurong Island's value chain."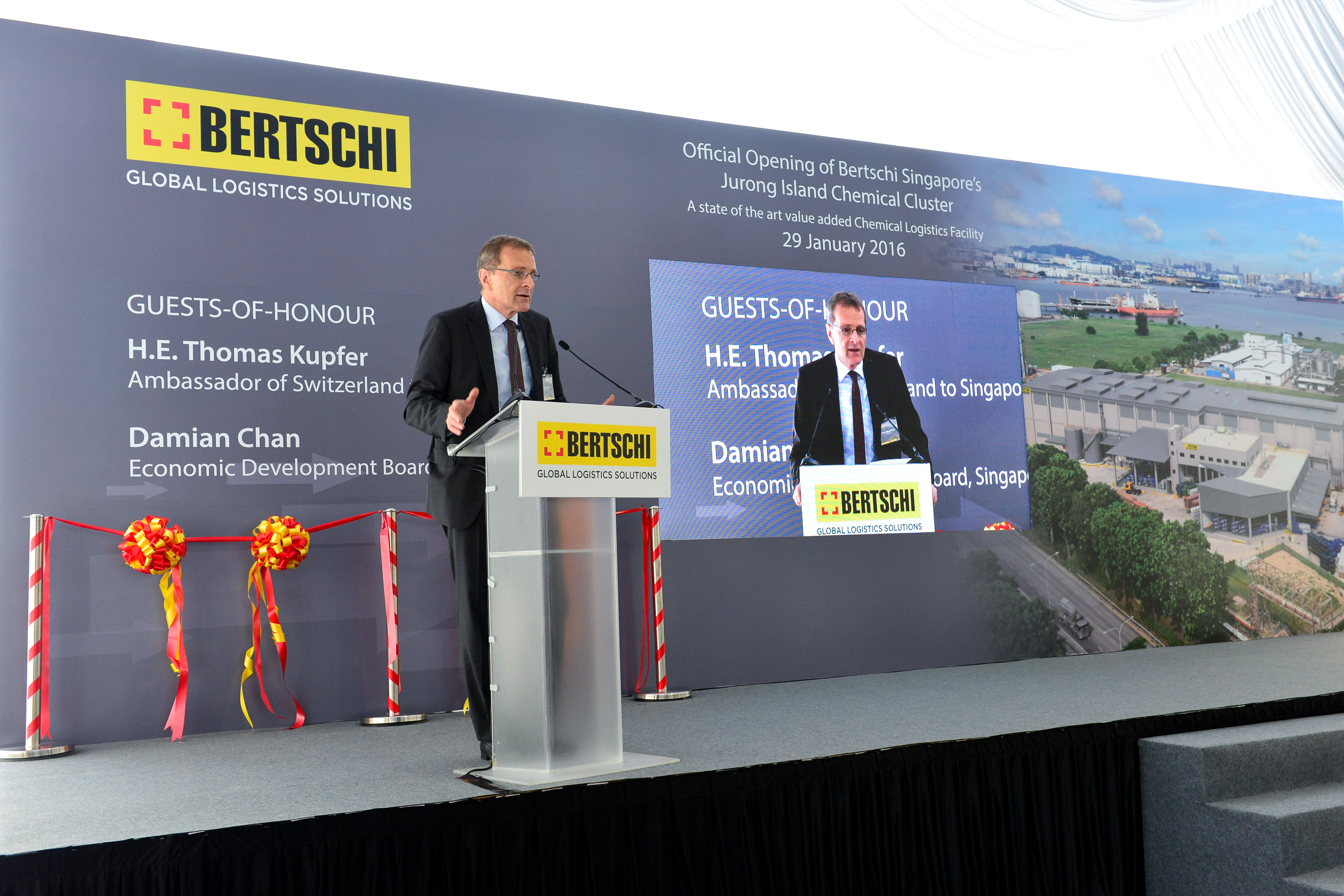 Bertschi AG
President and CEO of Bertschi Holding AG, Hans-Jörg Bertschi explains the importance of focussing on key competences and the implementation of a best practice approach
In keeping with the group's commitment to quality and safety, Bertschi's operations are certified in line with International Safety, Quality and Environmental standards. Built to surpass the highest industry standards, operations at the JICC are semi‐automated, and incorporates safety features like firewalls, chemical spillage retention basins, and remote‐controlled foam jets.

At the opening ceremony, Bertschi also announced that Phase Two expansion was already underway: "To meet the growing needs of our customers, Bertschi will invest in a second state-of-the‐art dangerous goods warehouse which will be completed in the second half of 2017. With an additional investment of more than S$ 20 million (EUR 12.9m), this will boost Bertschi's total investment amount to over S$ 65 million (EUR 42m)."
ABOUT BERTSCHI
Bertschi is a global logistics service provider for the chemical industry and is specialized in transports, storage and handling of liquid and granular products. The company employs 2,300 people at 60 locations in 31 European countries, Russia, Turkey, Middle East, China, Singapore and the USA. The family-owned Bertschi holding, which was founded in 1956, has its headquarters in Switzerland and an annual turnover of 650 million Euros. The company owns 25,000 tank- and dry bulk containers, 1,200 trucks and 25 container terminals. Bertschi is leading in intermodal chemical transports on rail and sea in Europe and stands in the development to a considerable global provider for tank container traffics as well as added value services in the chemical industry.
For further information, please visit www.bertschi.com www.bertschi.com.
Bertschi AG
Guided tour with Lieven Vander Elstraeten, Managing Director Bertschi Singapore Pte Ltd